Dr Michael Makanga designated as next EDCTP Executive Director
July 14, 2015
During its last meeting, the General Assembly of the European & Developing Countries Clinical Trials Partnership (EDCTP) selected Dr Michael Makanga to succeed Professor Charles Mgone as Executive Director. Prof. Mgone, who has been Executive Director for eight years, had decided to step down at the end of 2015 in order to pursue other interests. Dr Makanga will take up his role from 1 January 2016.


Dr Michael Makanga is a clinician-scientist born and raised in Uganda with (after medical qualification) 24 years of professional experience of working on health and poverty related diseases in sub-Saharan Africa. This includes 20 years of work experience on medical product development and clinical regulatory activities. He holds a Medical Degree from Makerere University, Uganda, and has been in various clinical and research positions before and after undertaking an MSc at the University of Liverpool, and then a PhD at the Liverpool School of Tropical Medicine, United Kingdom.

He subsequently was the Head of the Clinical Trials Facility and Outpatient Clinic in the Kenya Medical Research Institute - Wellcome Trust Collaborative Centre, Kilifi, Kenya, which is part of the tropical collaboration programme of Liverpool and Oxford universities.

In 2004, Dr Makanga joined EDCTP where he held various management positions. He was appointed as Director of South-South Cooperation and Head of EDCTP Africa Office in Cape Town, South Africa, in 2008.

During his 11 years at EDCTP, Dr Makanga has built up significant experience in quality assurance, project management and evaluation, health and research management as well as diplomacy and engagement with health and regulatory authorities in sub-Saharan Africa and Europe.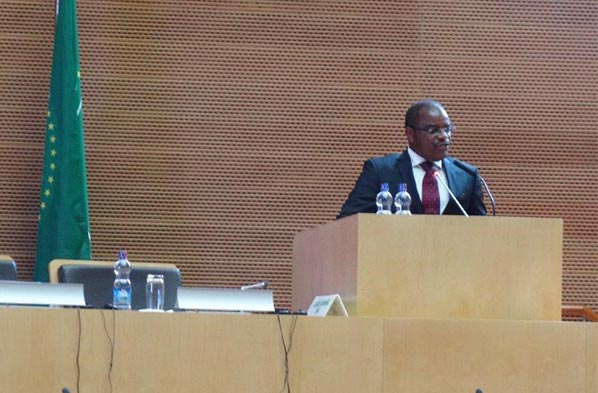 Dr Michael Makanga speaking at the meeting of African Ministers of Health in Addis Ababa, Ethiopia
"Dr Makanga has established an unprecedented network of relations amongst scientists, clinicians and policy makers in Ministries of Health and Ministries of Science and Technology across the African Continent. His knowledge of clinical trials and research management in the context of the burden of poverty related diseases in sub-Saharan Africa coupled to his high profile amongst the relevant Ministries made him the outstanding choice for Executive Director by the General Assembly."
Dr Mark Palmer, Chair of the EDCTP General Assembly


"EDCTP is a flagship initiative under Horizon 2020 whose ambitious goals require commitment and leadership. Michael Makanga's invaluable experience will help EDCTP deliver and succeed on its objectives."
Carlos Moedas, European Commissioner for Research, Science and Innovation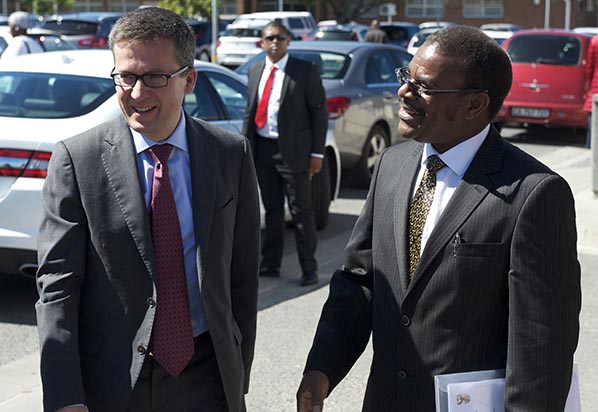 Dr Michael Makanga welcomes Commissioner Carlos Moedas at Khayelitsha (Cape Town, South Africa), where EDCTP-funded research is conducted
"After the success of the first programme, EDCTP has made a step forward establishing the Association in which African and European countries and scientist are seating jointly as partnership in a equal approach. This is very innovative and challenging. Dr Makanga has been one of those who made all this progress possible, mostly by bringing the commitment of African countries. His appointment is very important for the continuity of what has been done so far, for the progress of science in Africa."
Dr Eusébio Macete, Vice-Chair of the EDCTP General Assembly